CPU Monitor — temperature, usage, performance
CPU Monitor – temperature, usage, performance
Монитор температуры процессора и частоты в реальном масштабе времени
Информация О Приложении
Описание Приложения
я был представлен разработчиком System monitor tools lab – Cpu Ram Battery, CPU Monitor – temperature, usage, performance – это приложение Инструменты на платформе Android. текущая версия 8.0.0 выпущена April 17, 2020. Это приложение имеет более 1.2 Миллиона загрузок и 19.1 Тысяча голосов. рейтинг 4.3 звезды, вы можете проверить детали ниже.
Самый красивый и мощный монитор cpu для Android! Вы можете контролировать температуру процессора и частоту в реальном времени и анализировать данные о температуре и частоте CPU. Монитор Cpu предоставляет множество видов инструментов. в том числе: One Tap Boost, виджет RAM, виджет cpu, виджет батареи, плавающее окно на рабочем столе, плавающее окно строки состояния, сигнализация о высокой температуре. Вы можете очень хорошо контролировать информацию о плунжерах, процессорах и аккумуляторах. Подробные функции, в том числе:
★ Монитор ЦП
Контролируйте температуру и частоту процессора в реальном времени, анализируйте информацию о температуре и частоте процессора и поддерживайте мониторинг многоядерного процессора.
★ Информация об устройстве
Показать подробную информацию об устройстве, в том числе: информацию о процессоре, информацию о системе, информацию об оборудовании, информацию о экране.
★ One Tap Boost
Вы можете создать ярлык 「One Tap Boost cut, ускорить бункер очень удобно.
★ Температура над тепловой сигнализацией
Монитор Cpu вызовет сигнал тревоги, когда температура процессора или батареи превысит температуру, вы можете выбрать открытый или закрытый аварийный сигнал повышенной температуры, как вам нравится.
★ Плавающее окно
Плавающее окно показывает температуру процессора, температуру батареи, время работы барабана в реальном времени, в том числе: плавающее окно состояния и плавающее окно рабочего стола.
★ Виджет
Виджет поддержки, виджет cpu и виджет батареи.
★ Мульти-тема
Монитор Cpu очень красив и поддерживает многопоточное переключение, вы можете выбрать понравившуюся тему.
Если вам нравится монитор cpu, вы можете перейти на версию pro 「Мощный системный монитор」: Монитор процессора, Очиститель хранилища, RAM Booster, Battery Monitor, Battery Saver все в одном!
CPU Temperature
Стильный интерфейс Material Design и отличная возможность побольше узнать о нагрузке процессора.
Поскольку, не каждый разработчик добросовестно пишет качественные приложения и поэтому некоторые из них могут заставлят работать процессор устройства даже тогда, когда вы не используете приложение, что, само собой, очень негативно скажется на заряде батареи. Приложение под названием CPU Temperature было создано для того, чтобы всегда могли быстро узнать температуру процессора, его текущая рабочую частоту, загруженность процессора и силу тока батареи (указывается в миллиамперах). Приложение выполнено в соответствии с новой концепцией Google под названием Material Design.
Интерфейс состоит из 4 вкладок:
1. CPU Temperature – чисто информация вкладка, на которой большими цифрами указывается текущая температура процессора, чуть ниже можно увидеть насколько процентов загружен процессор, его текущую частоту, количество заряда батареи и ее температура.
2. Changing Curve – на этой вкладке вы найдете практически ту же информацию, что и на первой вкладке, но в виде наглядных диаграмм. Под диаграммой указывается временной промежуток, слева – диапазон величин, а вверху – текущая величина для того или иного параметра диаграммы.
3. Settings – настройки, о которых чуточку позже.
4. Analyze – весьма полезная вкладка, которая активна не сразу, поскольку, приложению нужно время, прежде чем у вас появится возможность увидеть список приложений, которые постоянно нагружают процессор.
В настройках вы можете изменить тему оформления приложения, включить/выключить уведомление, при высокой температуре процессора, "плавающую" надпись с текущей температурой процессора, а также анализ "особо прожорливых" приложений. Кроме этого, можно выбрать единицу измерения температуры и посмотреть информацию о своем процессоре. Подведем итоги: CPU Temperature – это отличное приложение для каждого, кто хочет иногда следить за активностью своего процессора и быть уверенным, что он не перегревается. Приятного пользования!
Softlay
How to Monitor CPU Temperature on Windows 10
Have you ever wondered exactly what temperature your CPU is running at? There are best freeware CPU Temp monitor programs which let you monitor CPU temp on windows.
Commonly there are two groups of users worried about the temperature of their computer: Overclockers… and pretty much anybody with a powerful laptop.
In this article, I'll guide you through;
How to check your PC's CPU Temperature on windows 10

What is Normal CPU Temperature?
How to check CPU temperature using Core Temp
Core temp is the best CPU temp monitor freeware program. It can be used as basic PC temp monitor. The processor in your computer is the most important temperature to measure.
It's simple, a lightweight program which shows you actual temperature of your computer without cluttering it up with other stuff. In addition to this, you can customize and even runs with other apps like rainmeter.
Download Core Temp or get it from the official website and install it on your PC. During the installation process, it asks you to select additional tasks. I suggest you uncheck all these options and third-party software installation.
When you run the application, it will appear as series of icons in your system tray showing the exact temperature of your CPU. As most of modern CPU has multiple cores, it shows multiple icons for each core. In this case, it shows you Core temperatures in the task bar.
Here is core temp interface, It gives you bunch of useful information about your computer, where you check CPU temperature of each of its cores, model and speed.
With Core Temp you can find CPU Temp in Celsius. If you need to know how hot is too hot for my CPU, take particular note of the"TJ.Max"value. It is the maximum CPU temp value, at which manufacturer has rated the CPU to run.
Keeping in mind if your CPU Temp is anywhere near that temperature, it is considered overheating which is dangerous. Unless you have overclocked your CPU, It is best to keep at least 15 – 25 degrees lower than TJ Max value. Even if then you are anywhere close to the TJ Max value it usually means something went wrong. Typically average PC temperature should be around 45 – 50 degree Celsius which is considered to be Normal CPU temperature for optimal PC performance.
Go to the setting to configure some of Core Temp more handy features.
In the Settings click the General Tab which allows you to "Start Core Temp with Windows": This option lets you monitor CPU Temperature all the time without having to remember to start it up. But if you like to view CPU Temperature occasionally, it's better to turn it off.
Another handy feature of Core Temp if you turn on "Start core temp with windows." Check out and turn on Start Core Temp minimized option inside Display.
Notification Area Icons allows you to customize how core temp appears in your system tray. It gives you a variety of options including display the temperature of CPU, Max Temp per processor, App icon, Ram Utilization, Processor load and Processor Frequency.
Enable Overheating Protection. By enabling this feature, you prevent your CPU against overheating. You can activate at the specified temperature or if TJ Max value is reached below 5 degrees. I suggest you activate specified temp. You can manually put the value keeping in mind you should put at least 15 degrees lesser to TJ Max value. ( In my case TJ Max value is 105 degrees, So I put 90 degrees). If your CPU Temperature is anywhere near this temperature, it shows you the notification at the task bar or shows you balloon pop up. Shutdown options allow you to put the system to sleep, Hibernate or Power down.
Core Temp can do a lot more than this – but these basics should be all you need to keep an eye on your optimal CPU temperatures.
HWMonitor Advance CPU Temperature Monitoring Across your Entire System
When it comes to advanced CPU Temp monitoring, HW Monitor is considered to be the best hardware monitoring software.
CPU Temperatures are considered to be the vital temperature to monitor. HW Monitor can be used to check temperature across your system such as Graphics Card, Motherboard, Hard drives.
Download HWMonitor latest version from here. It is also available in Pro version for further features and options regarding HW Monitor Pro you can visit the site.
To find out CPU Temp, mine, for example, is an "Intel Core i5 3320K" and look at the "Core #" temperatures in the list.
CPU Temp is different than Core Temperature. CPU temperature appears under motherboard for some PCs. You should monitor Core Temp.
I recommend you to check CPU temp once in a while. It is also observed that user always complains about overheating. If your PC is regularly overheating, there probably deeper cause which you need to look into.
You can simply check CPU temperature by opening the Task Manager and see if any processes using your "CPU" and stop them. Especially for laptop user's make sure you aren't blocking any of the vents. It is very commons that laptop fans are filled with dust and dirt.
Below the vent out with compressed air. Always periodically clean up your Computers fans with compressed air so that fans keep the temperature down. In the end we will advise you to know what is the best CPU temperature for your computer
Core Temp & HW Monitor supports Windows 10/ Windows 8.1/ Windows 7/ Windows Vista & Windows XP in 32-64Bit.
How to monitor your computer's CPU temperature while mining
There used to be two types of users who worried a lot about CPU temperatures. One is Gamers and overclockers and the other one is laptop owners. We'll add third type users to this list as Miners (Crypto Miners). Wait! Do still people mine Bitcoins using CPU in 2018? Not Bitcoins but there are some Altcoins which can be mined using CPU. Also people who use NiceHash Cryptocurrency cloud mining marketplace sell their CPU power and earn some fair amount. There are several applications to monitor GPU temperature but how do you monitor CPU temperature. Here this article is about monitoring your CPU temperature in Windows computer while mining crypto currencies.
How to monitor CPU temperature while mining
It is very important that you monitor your CPU temperatures; especially when gaming and while mining crypto currencies. Crypto mining is a intensive process and during mining your computer tend to consume more power which causes your CPU to overheat. It is a fact that excessive heating kills your hardware resulting in frequent crashes. Also by failing to monitor and control these excessive temperatures you may possibly end up damaging your CPU in the long run.
High end GPUs these days are more power efficient. They are capable of mining and producing better hashrates while maintaining low temperatures. However that's not the case with CPUs. Moreover GPUs have 2 to 3 fans with heat sinks versus the stock fan which you have for your CPU. For GPU 90°C is said to be high temperature but for CPU it is 70°C. For long term stability and to be on safer side you must keep the CPU temperature below 70°C.
Consider all the factors and take the following precautions today. If you treat your hardware well then it is going to last for a while.
Never stress your CPU.
Ensure its free from dust. Clean your PC atleast once in a month.
Make sure it has got nice air flow .
Last but not least monitor and control the CPU temperatures.
Core Temp to monitor your CPU temperature.
For basic CPU temperature monitoring we suggest you to use Core Temp. It is a light weight yet powerful application that monitors your CPU core temperatures. One of the unique features of Core Temp application is that it monitors and displays temperature of each individual cores of your CPU. Go to Core Temp website download the application and start monitoring your CPU temperature while mining.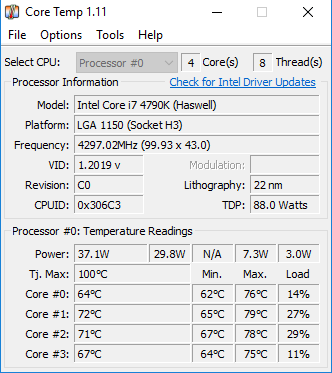 When you run Core Temp it will display bunch of information about your CPU. It displays your CPU model, number of cores, number of threads, platform, frequency and TDP (Thermal design power). Along with that it displays power consumption in watt and temperature of each core in Celsius. You must take note on the Tj. Max value in core temp which is the highest temperature in Celsius your CPU has been rated by the manufacturer. If any of the core temperature is close to that then it is considered as overheating and you must try to lower it. Minimize the Core Temp app and a series of numbers will appear on your system tray which is CPU Core temperature of each cores.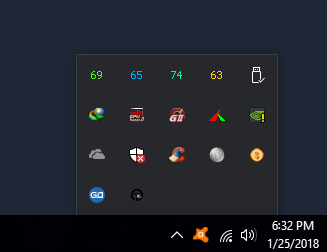 Whenever you mine using your CPU we suggest you to monitor your CPU temperature using Core Temp. If you are really worried about your CPU temperatures then consider this two factors. Replace your stock CPU fan with bigger fan or coolant. CPU temperature anything less than 80°C is totally fine. If it is anything above 85°C or close to 90°C then consider changing your CPU fan or for better sake stop mining using your CPU.
6 Best CPU Temperature Monitors for Windows [Free]
A lot of people won't realize but monitoring of CPU Temperature is an essential aspect. The monitoring matters so much if we look at the long term. It makes the computer live a healthy life and saves it from diseases such as overloading and overheating. In this post, I'll provide you a list of 6 Free and Best CPU Temperature Monitor Software for Windows.
There are a lot of factors that need monitoring if we wish to have an accurate report of our CPU's health and temperature. Some of these factors are the CPU load, clock speed, and temperatures, fan speeds, voltages, RAM usage, etc.
6 Free CPU Temperature Monitor Software
If you are aware of your computer's temperature, you can calculate that if it is working fine even when the external environment is hot. Taking report of the CPU temperature manually is a complex task, but these Free CPU Temperature Monitors will help you to make the work quick and easy.
These CPU Temperature Monitors are super handy for PC users in this growing tech-dependent world.
Let's begin with the list of the 6 Best CPU Temperature Monitor.
1. HWMonitor
HWMonitor is a light, easy and simple software for displaying the performance of your computer's elements. It displays stats like your system's temperatures, fan speeds, and voltages.
HWMonitor is developed by CPUID, a developer of CPU-Z and PC Wizard. Hence, it is well trusted and safe. This software stands out for its simplicity. It lists all the results on a single window, divided into easy to understand layouts. Somewhat similar to the Device Manager in Windows.
If you want, you can check your motherboard's temperatures and voltages, processor's temperatures and voltages, and your GPU's temperatures and voltages. Also, three sets of values are displayed- the current value, the minimum value, and the maximum value.
The reason it appears on the top CPU Temperature Monitor is that, despite providing us great performance and features, it is completely free to use.
However, the drawback of using HWMonitor include the unavailability of some advanced features like the ability to save monitoring or SMBus data to a text file, or the ability to control fan speeds or setting warning alarms.
Other than these, if you just want a simple and well-equipped CPU Temp Monitor, HWMonitor will become your favorite.
2. AIDA64 Extreme
AIDA64 Extreme is a comprehensive system analyzer and benchmark tool. It includes some powerful features, most importantly advanced CPU monitoring. Along with these, you can also check your RAM and GPU performance, and possible spikes and issues. This software provides a very intuitive interface, and hence very much easy to understand even for casual users. You may find it similar to Microsoft Console Management. Some other features of AIDA64 Extreme are, you can consult a large number of activity indicators, and you can stress test all your components in a large variety of combinations.
The only drawback here is that you have to pay to use the full version. It isn't actually a drawback as the software is worth the price, and it also offers the free version. All this enough to grab the second spot on our list of 6 Best CPU Temperature Monitor.
3. Rainmeter
Rainmeter is not just a simple CPU Temperature Monitor. In fact, it reserved its spot on our list of 6 Best CPU Temperature monitors mainly because of the versatility it features. Basically, Rainmeter is a free utility for customizing your desktop. It displays various types of data on your Desktop, including time, date, weather, and also CPU and RAM usage, temperatures, disks usage, and more.
One fun feature is the availability of skins, which you can download from the internet. Each skin features some piece of info that might be useful to you. When you install the Rainmeter, it will function with its default skin, which only shows CPU and RAM usage. Though you can make it explore its versatility and power by downloading more skins. Some common places where you can find the good skins are DeviantArt, Customize.org, and the Rainmeter subreddit.
After downloading a skin (.rmskin file), just double-click on it to install and enable it. You can even select which features you want to be shown on the desktop.
4. Real Temp
Real Temp is a free CPU Temperature Monitoring tool developed especially for Intel's processors. If your computer is running on some other processor, you should look for other options presented in this post.
Real Temp is fully compatible with single core, dual core, quad core, i5, and i7 Intel processors. It displays the temperature of the CPU in real time. Additionally, it also displays the minimum and maximum temperatures of your processor, since the time you turned on your computer. The program also provides features like setting up an alarm for high temperature, which eliminates the risk of overheating. It is a portable program, and you don't need to install it, just run it, and start monitoring your CPU's mood. Its simplicity and features gained it a spot in our list of 6 Best CPU Temperature Monitor.
5. Speedfan
Speedfan is considered the most popular entry in our list of Top CPU Temperature Monitors for Windows 10 and 8. The program is even older than the classic Windows XP. Yet, it is still the most reliable software to measure almost any sort of temperature of your CPU. Along with the ability to monitor CPU temperature, fan speed, and voltage, you can also control the fan speed, in case it runs slow or noisy.
You can even set up a warning if a temperature is high, or initiate an action that will send an email or run a program. You should try this amazing program yourself to experience "Old is Gold."
6. CPU Thermometer
If you are a minimalist, you'd love using CPU Thermometer. The reason it appears on this list of Best CPU Temp Monitors is that it only does what it says.
It is extremely easy to use, as it only shows CPU temp and the current CPU load of each core. It may lack some advanced features but it is very good for the basic task, which is measuring the temperature of the CPU. The only customization option you can find is the ability to change value metrics between Celsius and Fahrenheit.
CPU Thermometer displays you the current temperature as a tray icon in the taskbar You don't have to deal with anything complex.
Conclusion
Monitoring the CPU's behavior, especially the temperature is essential and much useful. These were the Top 6 CPU Temperature Monitor programs for Windows 10, 8 and 7. You can suggest some more of these in the Comments section, or if you have any doubt about anything in this post, you can ask me freely. Hope you liked the list.
20 Best CPU Temperature Monitor Software 2020
CPU Temp Monitor Software will help you to check your CPU temperature easily. Every program hasn't the same feature and capability so that to enjoy top class service, you need to choose one of the Best rated CPU or GPU Monitor programs.
Moreover, now a time online has tons of software but which will be the best CPU temperature monitor software for you? You need to do a lot of research to find out. But we already have done it and you can read attentively below: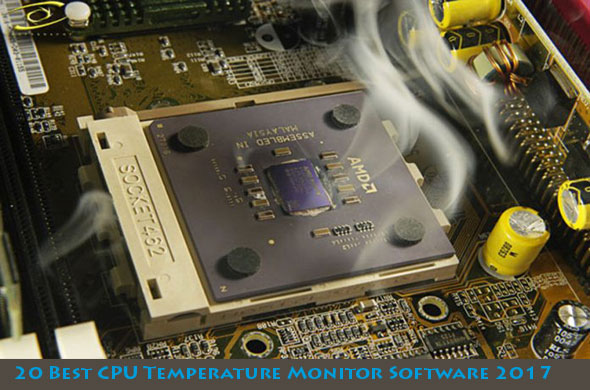 20 Best CPU Temp Monitor Software to See GPU Temperature Easily:
#1. Speccy: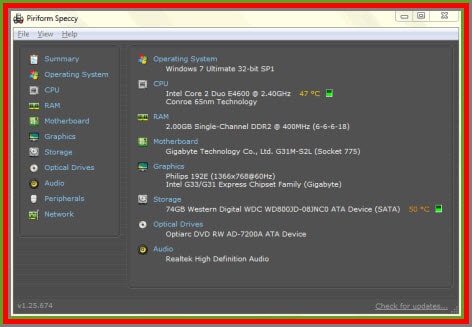 Speccy is one of the best well know daily driver that should need to have on your Computer. You can know about the CPU and GPU temperature for free but if you buy it then you can enjoy more advanced features. But if you are looking for temperature of your PC, then free version is enough for you and no need to buy for more features.
Speccy takes little bit of space on your system. It supports all the sensors integrated on your computer and detects the data accurately using them. Moreover, you can take a screenshot of the data that it is showing. It can detect problems from operation automatically.
You will not get any alarm about health is going down and you need to operate it manually. So, If you think about security and protect your PC, then it has no alternative to choose without the best one.
Price: Free
Available Platform: All 32bit & 64bit Windows OS (Windows 7, 8, 8.1 & Windows 10)
Download & Know More About>>Speccy
#2. HWMonitor: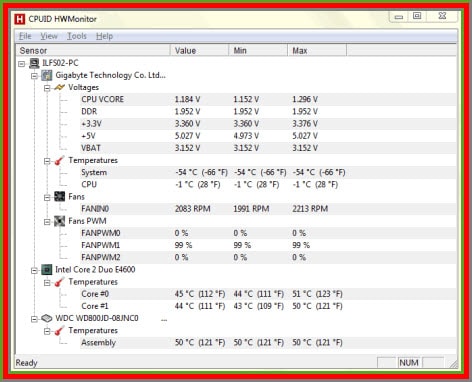 HW Monitor is another one of the best free CPU monitoring software. You may need to give a try because it is totally free and provide the best and most accurate result.
Moreover, You can enjoy lots of advanced features free and if you dislike standalone installer then you can also install the portable version. Because, You will not only get the temperature information but also the full details information like Processor voltages.
HW Monitor is very small in size and works fast. You can record log files without any errors. The PRO version of it is really very expensive. First-time users may think it is very difficult to use.
Price: Free
Available Platform: All 32bit & 64bit Windows OS (Windows 7, 8, 8.1 & Windows 10)
Download & Know More About>>HWMonitor
#3. Real Temp: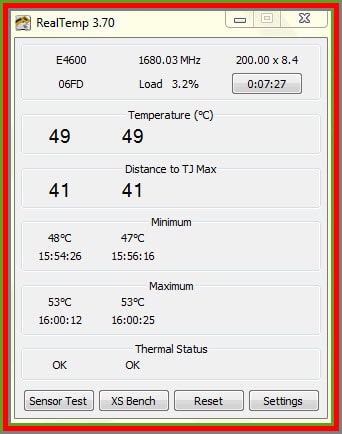 Real temp is one of the best trending temperature monitor software that is designed for Intel single-core, dual-core, quad-core, and Core i7 processors. Moreover, with this help of this software, You can see the real-time temperature of your computer.
Real Temp also shows information about maximum and minimum temperatures. You can get the alarm of high CPU/GPU temperature. additionally, You will receive the software in zip format and no need to require installation.
Price: Free
Available Platform: All 32bit & 64bit Windows Operating System (Windows 8.1, 8, 10 and Windows 7)
Download & Know More About>>Real Temp
#4. Open Hardware Monitor: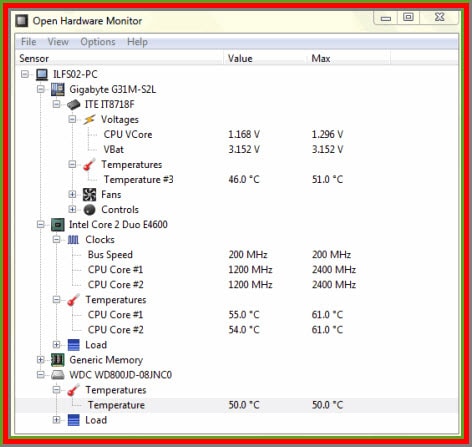 Open hardware monitor is a free open source software that helps to monitor the temperature of your CPU and GPU. If you hate problems while using this type of tool, then it is one of the best solutions. Additionally, The interface of this software is plain and very simple.
it is very easy to see GPU temperature monitor and CPU temp status with every core of the main computer processor and GPU (Graphics Processing Unit).
It supports to show more information about your computer temperature and can export the data. So, If you are starter of this software, then you must need to face some restrictions.
Price: Free
Available Platform: Windows 7, 8, 8.1 & Windows 10 32bit & 64bit Windows OS.
Download & Know More About>>Open Hardware Monitor
#5. CPU Thermometer: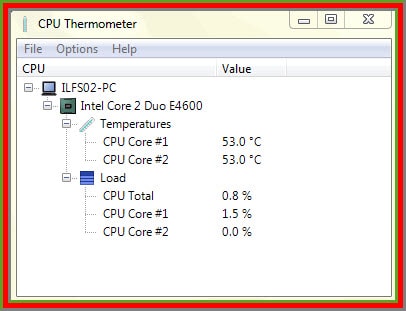 CPU Thermometer is another tiny tool that can easily determine the temperature of your computer. The interface is of this software basic and very simple. You can know the current temperature of each core and also the percentage of the load. You can change the units of temp.
Price:Free
Available Platform: All 32bit & 64bit Windows OS.
Download & Know More About>>CPU Thermometer
#6. EnhanceMySe7en Free: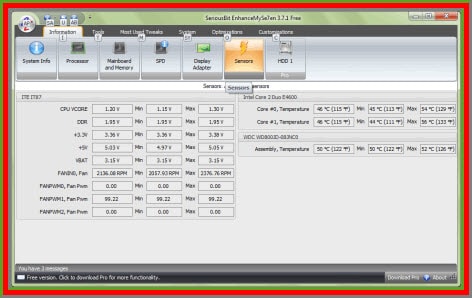 EnhanceMySe7en is a tweaking and system enhancement tool. You can see the system information of your PC and the current temperature of CPU/GPU. Moreover, It shows the minimum and maximum temperature of your Processor and shows in between two units named Celsius and Fahrenheit.
You also get other vital information like fan speed and many more. So, also enjoy the utility features like disk defragment, registry cleaning, startup manager and many more with this software.
Available Platform: All 32bit & 64bit Windows OS.
Download & Know More About>> EnhanceMySe7en Free
#7. SpeedFan: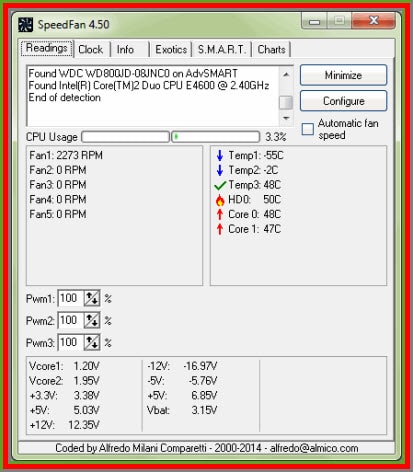 SpeedFan has some uncommon features that other best software hasn't, for this reason, it takes place on this list. Moreover, It provides real accurate temperature with the all-important information. You will receive some basic functions of monitoring and it can realize troubleshoot matter and can do some changes.
Moreover, It protects user interface to using smoothly. You can discover the result and can use it easily. So, It is not recommended for beginner users.
Price: Free
Available Platform: All 32bit & 64bit Windows OS.
Download & Know More About>>SpeedFan
#8. SIW Portable: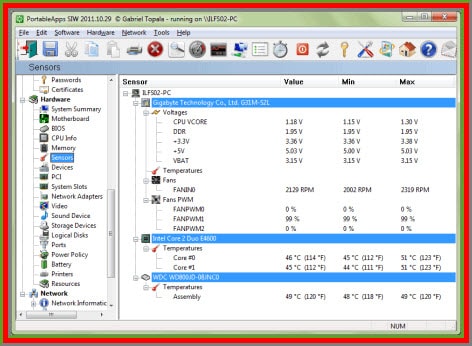 Price: It is not only a temperature monitor app but also shows system information. It shows the correct CPU and GPU temperature to avoid damages on your computer. It is very simple to use.
It has several important functions built-in. After install, you will feel attraction to use it by watching the visual interface. You can use it without a difficult task. You can export data for others by using it.
Available Platform: All 32bit & 64bit Windows OS.
Download & Know More About>> SIW Portable
#9. Moo0 System Monitor: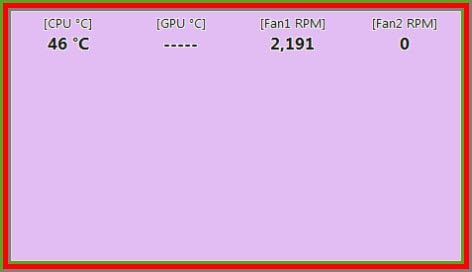 Moo System Monitor provides real-time system information and temperature information. You will get 30+ types of information by using it. The design of the interface is really impressive. So, You can easily place this on other places on your screen.
It supports the monitor instantly. You can customize it to show a special section. The installation process and pop up can depress you. Moreover, The way of information showing is also not looking so good.
Available Platform: All 32bit & 64bit Windows OS.
Download & Know More About>> Moo0 System Monitor
#10. HWiNFO: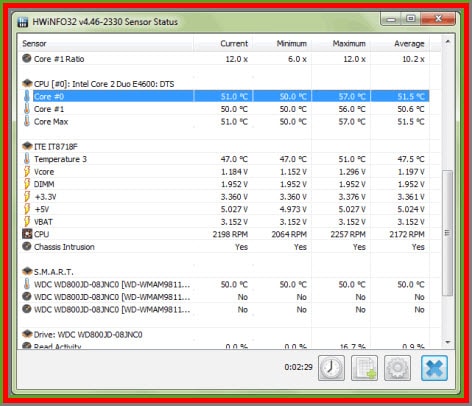 HWinfo is one of the easiest software to determine all the information on your computer. You have no need to have any technical knowledge to use it. You can enjoy its portable version and standalone version. Moreover, You just need to do few clicks to get all the necessary information. People also think the interface of it is really boring and the tool is in a basic way.
Price: Free
Available Platform: All 32bit & 64bit Windows OS.
Download & Know More About>>HWiNFO
#11. SensorsView Pro: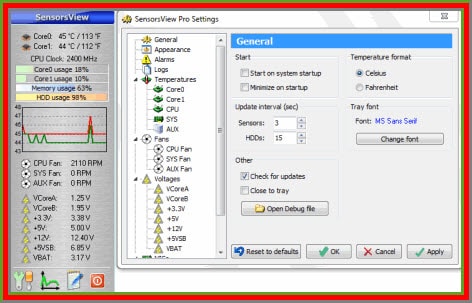 SensorsView Pro is another best free CPU monitoring software for determining the system temperature. You can know about the current temperature of each core of the CPU. Moreover, It can also show more system information like clock speed, usages of HDD and CPU, fan speed, voltages and many more. Also, the user interface of this software is very simple and easy.
Available Platform: All 32bit & 64bit Windows OS.
Download & Know More About>> SensorsView Pro
#12. Game Assistant 2: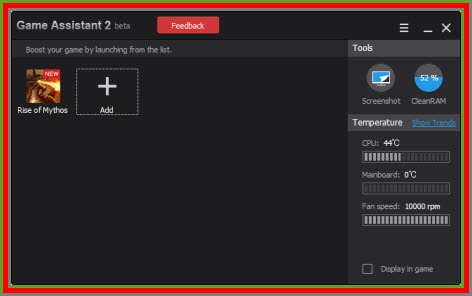 GameAssistant is a games organizing software and it also helps you to detect temp of your CPU. With the help of Game Assistant, you will know about the ram usages, fan speed, and many more things in a simple way. Moreover, You can take the screenshot of the report easily. You will get a basic tool take a screenshot. It does not take too much ram to show up. Additionally, get a free version of it to use and no need to have more knowledge to use.
you can see GPU temp with Game Assistance. Also, it shows the GPU fan speed.
Available Platform: All 32bit & 64bit Windows OS.
Download & Know More About>> Game Assistant 2
#13. Wise System Monitor: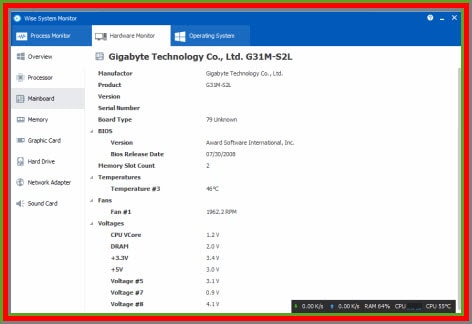 It is a simple hardware monitoring software. You can view the details information of your hardware like temperature, BIOS information, Motherboard manufacturer and many more. All the information will be generated in real time. You will get all the vital information by using it.
Wise System Monitor can give you the best PC hardware information. So that it can help you to optimize your PC.
Available Platform: All 32bit & 64bit Windows OS.
Download & Know More About>> Wise System Monitor
#14. CPUTempWatch: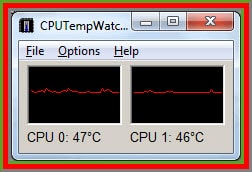 It is a simple and top tool for measuring the temperature of multiple hardware of your computer. After installing it you can monitor the temperature of your CPU real-time in system tray. Moreover, It will show the temperature of separately of each core. You can set the maximum temperature and if it is exceeded then your pc will turned off.
Available Platform: All 32bit & 64bit Windows OS.
Download & Know More About>> CPUTempWatch
#15. Core Temp (GPU and CPU Temp Monitor in Cores):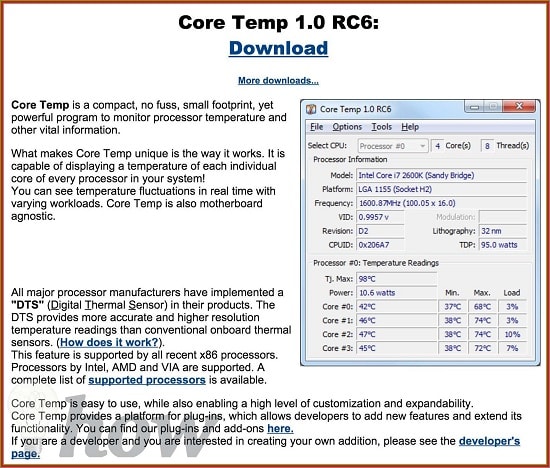 It is another best GPU temperature monitoring software. You could use it easily and simply without any difficulty. Moreover, It is not as much as better software but if you haven't enough alternative one than you can use it. Because the most important point is it is free to use and download. It has logging features for its users. It hasn't advanced features and not support to cap a video.
Available Platform: All 32bit & 64bit Windows OS.
Download & Know More About>> Core Temp
#16. GPU Temp: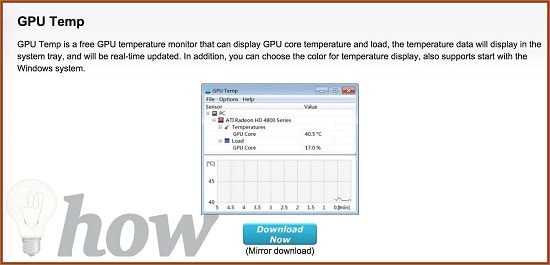 It is a very simple and easy software to show and monitor the temperature of CPU. It is totally free but you will not more features besides it. This software is lightweight and tiny. You can't see Celsius degrees on GPU temp because of restriction.
Available Platform: All 32bit & 64bit Windows OS.
Download & Know More About>> GPU Temp
How To Check GPU Temp?
That above software can also monitor your computer's GPU. Install any of that software to get your real temperature. Computer cooling is an essential part for your processor and GPU speed. For playing your games in a good performance, you need to cool your GPU.
Final Words to Monitor CPU/GPU Temp:
Now it is easy to check your CPU and GPU Temperature with those Best CPU Temperature Monitor Software 2020. Moreover, take the necessary steps to cool down your CPU or GPU if needed. Clean up your Computer regularly to keep it cool. Make a comment to express your experience in GPU and CPU temp monitor and Cooling.