10 best applocks and privacy lock apps for Android! (Updated 2019)
Top 10 Best App Locks and Privacy Lock for Android Devices in 2019
App Locks also are known as privacy lock is one of the most important privacy concern for all mobile users.
Smartphones are very personal, and the application within does carry different forms of personal data like pictures, messages, bank applications and more.
What is AppLock?
App Lock app often called a privacy lock that can secure the applications from strangers or the ones looking for information within your smartphones.
Security and privacy for these data are usually preferred by the users, but to do that they need proper security measures using Mobile lock apps for their devices and applications.
What does locking an app do?
Android phones do offer compatibility to install number of applications, at times even the untrusted third-party applications, a simple Man-in-the-disk attack or an Android malware may have the privileges to read into the personal data and securing against these attacks will require a lot of work.
Personal applications like WhatsApp, Instagram, Facebook, Mails and financial applications like Gpay, Paytm, Banking apps should be secured using an App Locks to keep our information and data secured.
In this article, we'll look into the top best 10 App Locks applications and there are many app locks download websites available but you can download it on Google Play Store for your Android devices.
Another perk is this app comes completely for free.
The app locks software plays a vital role in securing personal and sensitive data, it acts as your complete privacy guardian, by having this utilities you can avoid bothering if your friends operating your device.
10 Best App Locks & Privacy Lock for Android
1.App Locks by Ivymoile
2.App Locks by Domobile Labs
3.Privacy lock – Fingerprint Pro
4.Fingerprint Password – Applock
5.App Locker – Lock Apps
6.App Locks – Norton
7.Perfect Privacy Lock – App Protector
8.Secure lock for Apps
9.Smart AppLock – App Protector
10.CM AppLock – Security Lock Screen
1.App Locks by Ivymoile
App Lock by Ivymoile will allow you to lock almost any apps, including photo and videos. It comes with an invisible pattern lock feature, and also takes pictures of people who type in a wrong password.
It will also help you to hide the apps, customize the app lock frequency, and a random keyboard option to reduce the chances of guessing the password.
Here is the list of applications AppLock can cover, Social, System, Android pay, and third-party apps. you can download the App lock apk in Google playstore.
Other Highlights of this app Includes
DIY themes-customizing themes/wallpapers.
Intrude selfies
Option to replace the AppLock icon with other app icons.
Power saving and one tap to enable/disable AppLock option.
2.App Locks by Domobile Labs
App Lock or privacy lock by Domobile Labs is another best option available in the Google Play Store.
Similar to Ivymobile development, this app can again lock specific apps, including images and videos.
It also prevents anonymous uninstallation of the apps, fingerprint authentication support, deploy locks for incoming calls, and other system functions like Bluetooth/ Wi-Fi. This app comes for free similar to the IvyMobile's AppLock.
Works along with the random keyboard and invisible pattern lock feature to offer better security for the device owners.
Highlights of this app Includes
Security over parents checking the Snapchat and Musically videos.
Security over your games and gallery.
An extra layer of security for privacy within your social apps.
Download App lock apk in Google play store.
3.Privacy lock – Fingerprint Pro
Fingerprint Pro is again an effective app lock for iPhone, giving the users the full freedom to pick the apps they the users would like to be locked down.
Integrates with your fingerprint scanner to bring in additional security to lock your apps in your android device and also convenient app locks for ios.
Unlike other apps, this one doesn't lock the images and videos, but instead, it creates a vault inside which you can move your pictures/videos and lock it up using your fingerprint or pattern lock as a privacy lock.
But this app comes for $4.99 with no free version available. This app is developed by the Best App- Tom Droid team.
Few highlights of the app include,
The Valt for Gallery
Password lock themes
Protection for emails, SMS, and call logs
Fingerprint lock
Invisible patterns
Free Password manager allowing users to switch between, fingerprint, passcode, DIY, and password.
4. Fingerprint Password
FingerPrint Password privacy lock developed by Keepsafe is a very clean and straightforward app lock fingerprint.
Just like other App Locks, this can also take care of any app using a PIN, pattern, or fingerprint to lock the apps.
Additionally, this app does support ten different languages, with settings that would allow users to proactively lock the apps that they may download in the future.
Being offered for free, FIngerprint Password is very simple and easy to use App Locks or privacy lock for android devices.
Highlights include
PIN, pattern and fingerprint security
Proactive locking abilities
Simple and easy usability
5.App Locker – Lock Apps
App Locker developed by BGNmobi does most of the functions similar to other App Locker.
This app comes with the pattern, fingerprint support, and password locks. Additionally, this app does come with some customization options which will strangers from uninstalling the apps.
Again a very simple and useful app, not with so many other features.
Highlights include
Password, pattern, and fingerprint lock
New themes for locks
Prevent uninstallation of apps
6. App Locks – Norton
Norton is another big name in this list of App Locks, which comes with a four-digit PIN, pattern and password lock mechanism.
And the perks of Norton are, it shows the recommended set of apps that has to be locked for safety and security, takes pictures of the potential intruders who try your passwords.
Highlights include
PIN, password, and pattern
Recommend apps to be locked
Taking pictures of the intruders.
Content privacy
Data security even if the device is lost or stolen
Prevent embarrassing 'pocket-dials'
7.Perfect Privacy Lock – App Protector
Perfect App Lock is another one to add to this list. Comes with the basic features including a lock for Wi-Fi and Bluetooth.
But there are a couple of unusual errors that's been shown during the usage of this app, both the free and paid versions almost have the similar features, but the advantage of paid is being Ad-free.
Highlights include
PIN, pattern, and gesture.
Manage screen brightness of selected apps
Prevent screen rotation in apps
Takes a picture of the users after the third failed attempt
Lock calls, WiFi, Bluetooth, Install/Uninstall of apps
Less power consumption
8.Secure lock for Apps
Secure lock for Apps is a perfect choice for Android devices. It is a smart and best app locker to keep your data safe and secured.
Features include passcode locks for apps, fingerprint lock, passcode recovery options, and this app does not share the data with the third party at the back end which is a critical thing in the today's data-first market ecosystem. Ad-free and minimal battery utilization.
Highlights include,
Passcode and Fingerprint
Recovery options
Ad-free
Lightweight
No third party data sharing
9.Smart AppLock – App Protector
Smart AppLock is yet another AppLocker that comes with interesting settings, toggles, and phone log controls to keep the apps safe.
A unique feature is this app will disguise itself as a locked screen and let people think they haven't unlocked the phone at all.
Additionally, it provides an automatic reboot, delayed app locking capabilities, fingerprint scanning options and break-in alerts to the owner of the device.
Highlights include
A Disguised look of a screen lock
Multiple lock types can be combined
PIN, password, fingerprint, and pattern
Less memory space
Alerts once breached in
Delayed lock options
Encrypt photos and videos with GalleryVault
10.CM Security Lock Screen
CM Security Lock Screen for iPhone and android not just secure to your apps by protecting the same from anonymous users, but it also secures the apps from virus and other malware.
Features like instant cleanup for increased speed of the device, locking the screen with passwords, PIN, pattern and fingerprint, hide the photos and videos, takes pictures of the intruders and few colorful themes.
Features like instant cleanup for increased speed of the device, locking the screen with passwords, PIN, pattern and fingerprint lock, hide the photos and videos, takes pictures of the intruders and few colorful themes.
Highlights include
Malware prevention capabilities
Pattern, PIN, password, and fingerprint
Security over photos and videos
Your smartphones are your first set of personal information anybody could reach to, though we mostly have device locks in the form of patterns, PIN or passwords, its always good to have an additional layer of security by deploying AppLocks for certain vital apps like financial and social apps, so your information stays secure.
The app locker apps provide you three different types of locks that includes password lock, pattern lock, and fingerprint lock.
Conclusion
Android devices are usually prone to malware breaches, and App Locks without third-party data sharing could be a perk for professionals who hold even their corporate data within.
With organizations, these data are handled using a UEM or MDM software, but for the personal purpose its always better to go with any of the above mentioned ten App Locks to safe against intruders and keep your personal data safe.
Give a try on these list let us know their advantages, disadvantages and the reason you chose the same in the comment section below.
The App locks are trusted millions of people for protecting their privacy and to hide their sensitive data from bad actors.
You can follow us on Linkedin, Twitter, Facebook for daily Cybersecurity updates also you can take the Best Cybersecurity courses online to keep your self-updated.
Best Lock Screen Apps for Android 2020
There are lots of apps designed by various developers to help Android users keep their device and data safe. These lock screen apps not only help to prevent unauthorized access but also serve as an amazing upgrade to the device. The Google Play store is filled with such application with brilliant customization features. If you are also one of those people, then you are on the right page.
Here in this article, we are providing you a list of best lock screen apps for Android devices. So, take a look at the list and decide which application is suitable for your needs.
Here, we are going to mention wonderful lock screen apps for Android device. So, let's give a look at them.
1. AcDisplay
AcDisplay is one of the finest lock screen apps for Android phone. It is free to download and install from Google Play Store on your device. Once it is installed on your phone successfully, it shows a beautiful screen that let open notifications from the lock screen. It comes with an incredible stability level, and it comes with many other features, such as Dynamic Background.
2. CM Locker
CM Locker is great for the protection of confidential data on your device. You can lock your device's screen to ensure your privacy. It comes with anti-theft protection that let you locate your missing or lost device, and lock it remotely. The app also provides from fingerprint support and it also comes with beautiful HD theme and wallpapers that are free to download.
3. Hi Locker
HI Locker is iOS lock screen app which is considered the ultimate one. The app was designed on the basis of the mix of classical «Lock Screen» on the Android older versions, with the modern of Android Lollipop. It comes with a great notification system on your device lock screen, along with Material design style. It comes with customization features you can explore by download the app.
4. LokLok
LokLok is a little bit different from lock screen apps and it is truly fun to use when you use this app. It allows you to interact with your loved ones right from your device's lock screen. Plus, it let you leave notes, photos, and drawings for your loved ones and get to know when they see their phones. It comes with many handy features that you will love for sure.
5. Solo Locker
This app comes with a lot of customization features for your device lock screen. It has various lock methods, widget options, passcode styles and incredible wallpapers you can try. The app is truly the best password app lock for Android available on Google Play Store.
6. Next News Lock Screen
Next News Lock Screen app is provided by Microsoft corporations on the Google Play Store. It is specially designed to customize an Android device. This app comes with everything you are looking for. The app provides support for fingerprint unlocking. Plus, it has an integrated music system that supports services, like Spotify and Pandora.
7. C-Locker
It is a simple lock screen app you can try out on your Android phone. It now comes with the latest updates, such as pattern unlock, auto-taking Selfie, security safe, and many more. Now, it provides supports for Samsung Galaxy S Series Fingerprint Lock. Plus, the app also has a Pro version, but you can try its free version before buying its Pro version.
8. SlideLock Locker
SlideLock Locker is a simple locker that comes with powerful and wonderful notification features. It has many features, such as swipe the screen to unlock your device, custom options for every app, time reminders, material design, and low battery usage.
9. Cover Lock Screen
It is one of great lock screen apps for Android that allows you to access your other apps quickly and easily right from your lock screen. It is free to download and install on your device, and you can download it from the below link.
10. SnapLock Smart Lock Screen
If you want a smart and considerate tool for screen lock, then using SnapLock is a good option. With this app, you will get an intelligent assistant that won't let you miss any notification. The app has inbuilt personalization options with editor-picked wallpapers for the lock screen. Plus, you will also get the music player interface on the lock screen.
Best Android Unlocker Software: 4ukey For Android
Sometimes, due to random mistakes, people also get locked out of their device. Unfortunately, this situation can be very frustrating especially when you have lots of personal data and it seems impossible to access your device. But don't worry, Tenorshare 4uKey-Android Password Bypass is here. This tool is the best software you can use to remove the password lock without any doubt. It can be used to remove various kinds of lock screen with just one click. So, use this smart tool whenever you get locked out of your device and get easy access to your phone.
The brilliant features of the software are listed below:
Removal of all kinds of screen lock including-password, PIN, pattern, and fingerprint lock
Safe and secure process with 100% guarantee
Support for all latest and older Android OS versions and devices
Automatic Software detection feature
The users who need to remove the password from their Android phone can download the software from the official website. It will take a few minutes to properly install the software. And once it is installed, follow the steps given below to unlock your phone:
Step 1: Run the software and connect your device with it. After the device is connected, click on the option Remove Sceen Lock.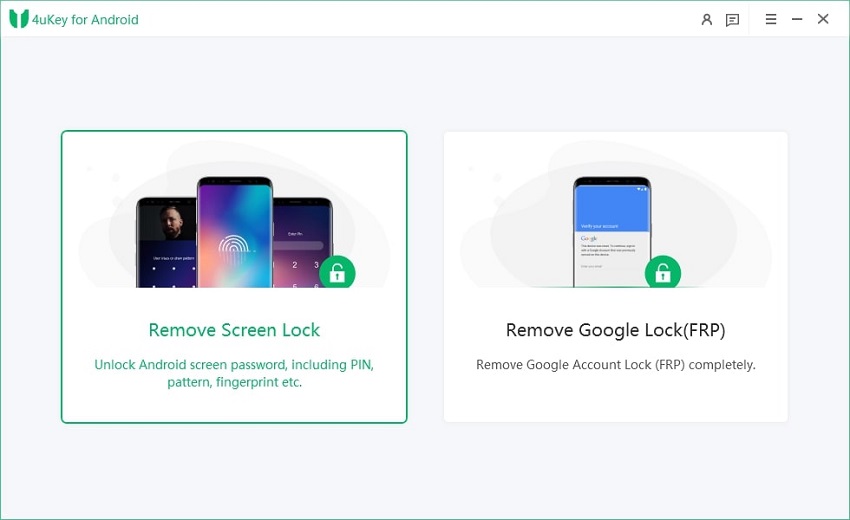 Step 2: You will see the Start option on the screen. Tap on the Start button and wait while the software prepares the environment for password removal.
During this, the software will also send a data package to your device.
Step 3: Finally, you will be prompted to continue the process. The pop-up notification will state that the screen lock removal will erase the data from the device too.
It will only take a minute and your device will become accessible once more.
Conclusion
As you can see, there are various apps that can be considered amazing to improve your Android device functioning. And these apps include all kinds of lock screen feature. You can set the best app lock for android devices as you see fit. But the app that can help you to unlock your device in an unexpected situation is Tenorshare 4uKey. It is the most effective and reliable tool that can help you to regain access to your device.
Updated on 2020-05-09 / Update for Unlock Android
10+ Best App Lock Apps for Android | 2019
Android is the most popular operating system for smartphones. It comes with many great features and it can be customized according to the user's needs. Though Android is considered as a very much secured OS, it lags behind in a few aspects. The latest Android smartphones are coming with great security features like fingerprint scanner to lock and unlock the phone but it is not possible to lock individual apps in stock Android. Few smartphone companies with custom UI now offers app lock option and allows users to lock your app with passcode or pattern or fingerprint. But most of the smartphone lack in app lockers for the Android option.
The smartphone is a personal gadget and security of the data in it is very important. A person would want to lock his apps for various reasons. Few people don't lock their phone entirely because they think it can be a life savior for someone in an emergency. Nevertheless, they want to protect some apps which contain private information. Whatever the reason is, there must be a solution to how to put a lock on apps. Now we don't have to worry about this problem anymore because there are many third-party App Locking applications or privacy guard apps available on the Google Play Store which we can download and use very easily.
Best App Lock Apps for Android
Here is a list of the 8 best app lock apps for Android, available on the Play Store. See this list for locking apps to prevent unauthorized access and solve your query of how to put a lock on apps.
1. AppLock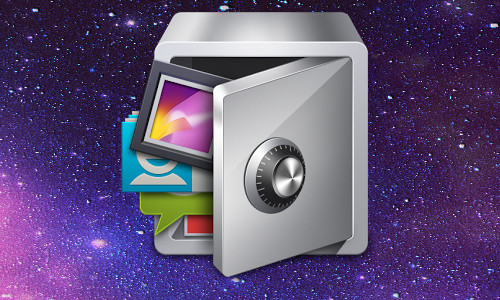 AppLock is the most famous App lockers for android by Domobile with over 100 million download. It supports 24 languages. It has a simple interface. The users can lock any app with this as well as they can lock WiFi, Bluetooth, mobile data etc.
This domobile AppLock also comes with an inbuilt vault to lock and hide all your private videos and photos. It can also lock the settings of the phone. You can add your recovery email id in the app so if you forget your password, it will send you an email to recover it back.
If you install the Advanced Protection plugin, nobody can uninstall the Applock. You can unlock the premium features of the AppLock either by enabling ads or paying for the premium version via a donation.
2. Smart App Lock

Smart AppLock is another great app lock which has some really nice features. You can set a pin, password, or a pattern to lock the apps. One of the best features of this app is its ability to take a picture of anyone who attempts to open the app with a wrong password and mail the picture to the owner who puts in his email id in the starting. It can fool the intruder by showing that the app has crashed too.
You also have the ability to lock WiFi, Bluetooth. It also allows you to lock outgoing or incoming calls. You can restrict the unlock attempts in this lock screen app. So, the app offers good options for your privacy. You can also lock or unlock your device remotely just by sending an SMS. The app size is just 3MB and it works very well.
3. AppLock
AppLock has the same name as the first app of the list but it is from a different developer. This app gives you the ability to lock apps, photos, videos, and other private data with password or pattern lock. This is a free app. You can download it and start using it. This app can also lock system apps including Contacts, SMS, Gallery, Videos, Email and so on. You can also use it to protect your social media apps like Facebook, WhatsApp, Messenger, Vine, Twitter and more.
4. Privacy Knight Applock
Privacy Knight Applock is also a popular app from the Alibaba group. This app is not much popular but worth to mention. It is a free app that doesn't show ads as well. This app lets you lock your apps using PIN. Pattern, fingerprint or face unlock. You can also lock incoming calls using the app.
This app allows you to lock your apps to keep them safe from unauthorized access. It also gives you a vault to keep your photos and videos safe. If someone tries to unlock your phone without your permission, it captures a selfie of that person.
5. Apps Lock & Gallery Hider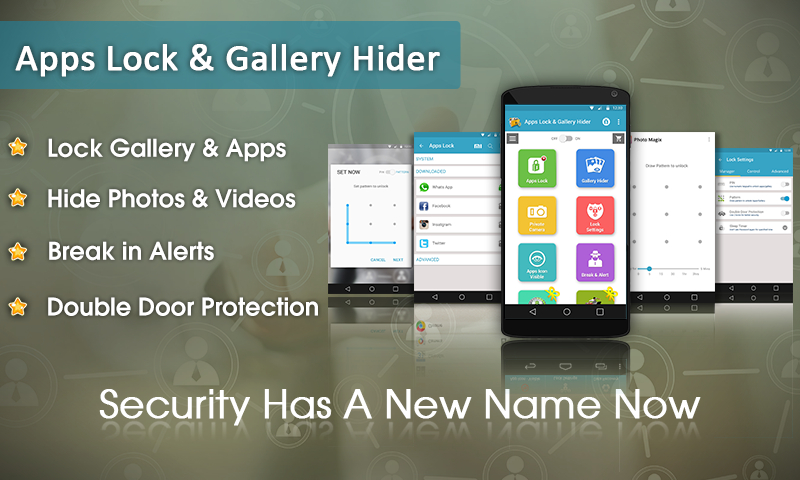 Apps Lock & Gallery Hider is another cool app which can lock any app on your android smartphone. I can even lock apps such as the dialer and the phonebook with this app locker app for android. It encrypts media, hides photos and videos, Cannot be uninstalled or killed by intruders and much more.
Apps Lock & Gallery Hider can even lock features like- Settings, Incoming call, Task manager, etc. This app has double door protection.
6. Norton App Lock:
The popular Antivirus maker Norton made the app lockers for Android. With Norton App Lock, you can protect your apps and private data by using password, pattern or fingerprint. Norton App lock allows you to add 4 digit passcode. There is also a sneak peek feature that captures the photo of the person who entered the wrong PIN or pattern 3 times. It is free & ad-free app locker App for you.
7. LEO Privacy Guard
LEO Privacy Guard is another highly used app locker with over more than 50 million downloads. There are many features which distinguish this app from its competitors. It can lock and unlock an app based on your time and location settings. For an example, you have locked the Facebook app when you are at work so no one can open it but when you come back home at night, the app unlocks automatically.
8. App Lock
App Lock is again one of the best app lock for Android in the list. It is simple to use yet powerful. It can lock all your apps and will never make you worry about your private data again. Users have to set security questions with answers so that if in future anyone forgets his password, he can recover it back by answering to those security questions.
9. Smart AppLock 2 (App Protect)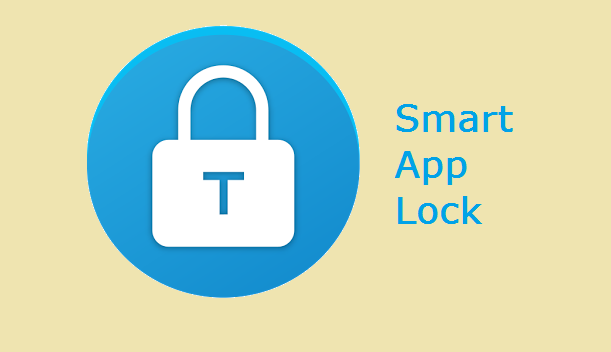 Smart AppLock 2 is also a very popular and highly used app locker app. It can lock all your apps and block various features such as incoming and outgoing calls, changing Wi-Fi setting, changing phone settings, etc. With smart AppLock 2, you can store all your private content like your secret pictures and videos in a vault which is also protected by a password.
It is mentioned in the app that unlocks with the fingerprint is only for Samsung devices. This AppLock for Android is light and uses less memory.
10. Apps Locker Master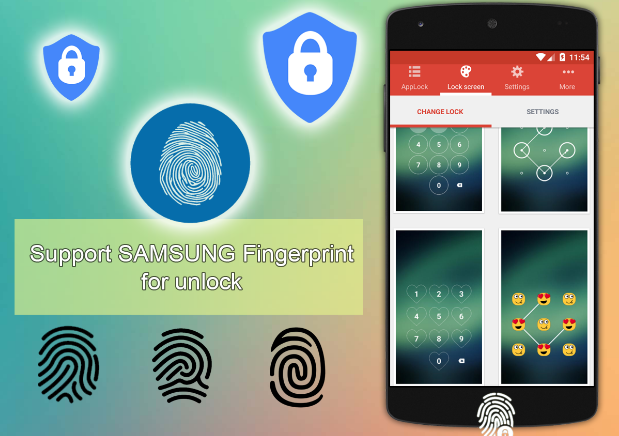 Apps Locker Master is also a nice app locker which works on your smartphone. With a simple and user-friendly interface, it makes it very easy to safeguard your apps without any hassle.
It comes with many nice features to lock and unlock your apps with pattern and PIN passwords. As this app works perfectly fine in the landscape mode too, it makes it an ideal app to be used on tablets.
11. Perfect AppLock(App Protector)
This app also has the same feature as the other locking app. But it has a unique feature named Stealth Mode that can hide the app from the Launcher or App menu. It provides lock by using a pin, pattern, and gesture. It also provides the fake fingerprint, Rotation lock support, Watchdog.
The watchdog takes the picture of the attacker after the third attempt of the failed password. It also locks the Wi-Fi, 3G data, Bluetooth, Sync etc. it has a feature of remotely start AppLock service using SMS command.
Final Words
Now, you have the list of best App lock apps for Android. If you want to keep a few of your apps protected with password or fingerprint, you can use any of these apps. We recommend you to use Domobile AppLock. But you can try any of these apps to keep your apps protected. No one else can access your personal data and app without your permission. By locking apps, you can make sure that you are the only one who is updating your status.
Tell us about your favorite App Locker on comments down below. We will test that and compare with existing list. If that is good enough, I will surely add that in this list.
10 best applocks and privacy lock apps for Android!

The applock is perhaps the most rudimentary of security apps. The way it works is that it will lock up your other apps from prying eyes. That way you don't have to worry about someone accessing your Facebook, gallery app, or banking app. They work best when paired with a lock screen lock to give you two layers of security. Which ones are worth getting? We'll help you out with the best applocks and privacy lock apps for Android! You can learn more about applocks by clicking here! It's important to note that this is not an end-all-be-all solution for security. It's good for kids or snoopy friends. However, these provide very little real security for things like stolen phones or even against your more tech savvy friends. You should not use this instead of a lock screen.
5 best find my phone apps and other find my phone methods too!
10 best security apps for Android that aren't antivirus apps
Apex Launcher
Price: Free / $3.99
Apex Launcher is an excellent launcher and it just so happens to have an applock function. The launcher features are pretty good and include various customizations, icon pack support, various effects, and you can hide elements like the status bar or the dock if you want them invisible. There are also some app security features as well, including the ability to hide apps from the app drawer and an applock function with a password protect layer for extra security. It's always a little better if it's baked into the launcher than from a dedicated app, so if you don't mind re-doing your home screens, this one and Smart Launcher 5 (listed below) are good alternatives to dedicated applock apps.
Applock by DoMobile Lab
Price: Free
Applock by DoMobile Lab is definitely one of the best applocks out there. The app can do the basics like locking up specific apps. It can also lock up specific images and videos. It also includes uninstall protection, fingerprint support, and you can even lock stuff like incoming calls, uninstalling apps, and your various system functions like Bluetooth. The app is free to download and use. You can unlock the premium features either by enabling ads or paying for the premium version via a donation. It's a strong app and one of our favorites.
AppLock by IvyMobile
Price: Free
AppLock is another one of the better applocks on Android. Like you'll see, it can lock pretty much any app on your phone. It also boasts the ability to lock photos and videos. The app features an invisible pattern lock as well as a random keyboard just in case someone is trying to peep over your shoulder. You'll also get theming, the ability to replace the icon so you can hide the app, lock frequency, and more. It'll even take a picture of people who don't put the password in right. It's completely free to download and use. That's another good perk for this one.
AppLocker by BGNmobi
Price: Free / $2.99
AppLocker by BGNmobi is a decent overall app lock app. It does most of the same stuff as other applock apps. That includes locking up apps and giving you various ways to access them. You get fingerprint support as well as pattern unlock and a password unlock. It also comes with some customization options and it can prevent other users from uninstalling apps. It won't dazzle you with a ton of extra or unnecessary features. It's just a simple app lock that does its job fairly well and it's also cheap. You can use this for free if you subscribe to Google Play Pass as well.
AppLock by KewlApps
Price: Free / $1.99
AppLock by KewlApps is a simple and clean looking applock. It can lock up almost any app and you can use a PIN, pattern, or fingerprint to unlock them. The app also supports more than ten languages, has a variety of settings, and it can even be set to proactively protect new apps that you download. Aside from that, it's one of the more simple applocks on Android, but we still like the little niceties such as the ability to capture an intruder's face if they enter your PIN in wrong. The pro version runs for $1.99 and that's a reasonably decent price.
15 best antivirus apps and best anti-malware apps for Android!
10 best privacy apps for Android to keep your anonymity intact!
Norton App Lock
Price: Free
Norton is a big name when it comes to antivirus apps. As it turns out, they also provide a free app lock app. It uses a four digit PIN, password, or pattern as its lock system. It also supports photos alongside apps. The app also comes with a recommendations list that lets you know which apps should be locked. That's a great tool for those who want a more hands-off approach. Like most, it also takes a photo of anyone trying to get into your phone. It can be bypassed if the peeker is clever, but it's still one of the more solid applocks.
Perfect AppLock
Price: Free
Perfect AppLock is another one of the better applocks out there. It features the basics, including support for locking up WiFi, Bluetooth, and other toggles. It's also rather frustrating to get passed. It throws fake errors and all kinds of other messages out there. That makes people think there's a different issue other than an applock. The free and paid versions provide the exact same features. The only difference is that the paid version doesn't have advertising. It's a solid all around option, even if it's name kind of oversells its capabilities a little bit
Smart AppLock
Price: Free
Smart AppLock is another decent free applock option. It'll lock up your apps and photos, including your settings, toggles, and phone app (for phone logs) to keep all of those safe. It disguises itself as a lock screen. That way people think they're back there all over again. Along with that, it provides auto-start upon reboot, break-in alerts, delayed app locking, and it has fingerprint scanner capabilities for Samsung devices. It's a free option that is supported by advertising. The only downside is that it's pretty easy to uninstall once someone figures out that it's there.
Smart Launcher 5
Price: Free / Up to $6.99
Smart Launcher 5 is a newer launcher with some decent security features. The app features launcher stuff like ambient theming, adaptive icons, app sorting, gestures, hotkeys, and more. One of its more niche features is an applock. The launcher hides apps you don't want other people seeing. Additionally, if they do find them, the apps are then protected with a PIN. We would've liked to have seen fingerprint reader support, but it's a whole launcher with an applock built-in and that's a bit of a rarity in this space. Thankfully, this rarity is also pretty decent as a launcher and as an app lock.
SpSoft AppLock
Price: Free / $4.99
SpSoft AppLock is a decent option for applocks. It features password, pattern, and fingerprint unlocking. That's good news for those with fingerprint scanners. Like many, it'll take a selfie of people who try to get into your apps and fail. It also has a bunch of fun little extras. You can make your pattern unlock show up on a grid of up to 18×18 instead of the traditional 3×3. It'll also show a fake error message instead of a lock if you want it to. The app will even keep your screen on when using certain apps if you want. It's a good option that also supports over 30 languages.
The Best Free AppLock Apps for Android to Password Protect Apps
Get an App Locker App to secure individual Apps with password from unwanted access on your device
Smartphones are no longer a simple handset by which we can call someone or can send text messages to someone; rather it is an accumulation of handset, digital diary, bridge to the internet, entertainment source, etc. For many purposes, we have installed so many applications on our smartphone that we cannot even remember them until we are in real need of them. Some of those apps are so useful and confidential that we need real security to protect them from unwanted entry and un-authorized un-installation. For this kind of annoyance, the first thing comes to my mind is the AppLock app.
More and more of us are increasingly dependent on our smartphones for running many aspects of our lives. One drawback with this is the amount of personal and financial information we have stored on our mobile devices. This ranges from social media, messaging apps, or the photos and videos from the gallery, to banking apps where sensitive financial information might be at risk. Many people are understandably concerned about the dangers posed by prying eyes, so it's a good idea to ensure the privacy on your smartphone with a security app. This is extremely important, today more than ever, and fortunately, it's fairly simple to do.
How to lock individual apps on Android?
One way of securing your private details is with the use of an app lock, and some device owners choosing to use a custom ROM might already be taking advantage of a built-in app locker. However, most device users don't use custom ROMs, but there are many App Locker apps available on the Google Play Store that will help to protect your apps and keep such information safe from snoopers. They can work in a variety of ways to lock your apps, including through a fingerprint scanner, password, or PIN.
10 Best AppLock for Android to keep information private
NORTON APP LOCK (Free)
Virtually everyone will have heard of Norton antivirus protection so it makes sense that the company would also branch into an app locking solution for Android smartphones and tablets. The App is entirely free to use and comes with a wealth of features that make it easy to recommend for safeguarding your privacy. It supports apps as well as photo and video protection with a lock system that uses a password, a four-digit pin, or pattern. As well as this it provides a useful list of recommendations for apps that you should especially consider locking.
The app will also prevent those embarrassing moments when you accidentally dial someone when the device is in your pocket. Further features include parental controls and sneak peek anti-theft where a photo will be taken of anyone trying to unlock your phone after three failed attempts.
APP LOCKER – BEST APP LOCK (Free)
This app has a huge rating of 4.5 stars on Google Play and is a top security app choice for many device owners. It enables you to maintain privacy by locking apps such as Facebook, Gallery, and WhatsApp among others. As well as maintaining the security of your settings and apps, this one also covers images and videos. Apps can be locked with a patterning method, and App Locker now also features fingerprint scanner support.
A plus point with this app is that it's light on system resources such as RAM and battery life. It's based on Material Design with a variety of colors and themes. If you have a Huawei or Xiaomi device you might want to check out the app notes before you choose to download it, although a workaround is available.
HEXLOCK APP LOCK & PHOTO VAULT (Free)
This is one of the more recent app lockers on Google Play and it offers a very appealing interface. You can lock apps such as Facebook, Whatsapp, SMS, Gmail, and Contacts, with your fingerprint, pattern, or PIN to keep all of your information secure. A further feature is the new Media Vault that will keep your photo and video files safe and protected. One excellent feature of Hexlock is a profile system. You can choose to create your own profiles or opt from a selection of preset profiles including Home, Parental, Work and more.
Additionally, depending on which WiFi network you're using, the app can automatically enable a profile. Like some other app, this one will snap a photo of anyone trying to unlock your apps without your permission, and also saves the location. This free app includes ads but you can choose to pay for a non-ad version via an in-app purchase.
PERFECT APP PROTECTOR (Free)
Protect any of your applications with this app, which happens to be a Google Top 20 application. The app uses the pattern, PIN, or gesture methods to lock, and can also lock WiFi, 3G data, USB, Bluetooth, and Sync. Features include rotation lock support, screen filter support (to manage individual app brightness), and a fake pop-up that displays a fake error message on the launch of a locked app to annoy your snooper.
This app can also be used to lock the Home screen, barred outgoing calls, block incoming calls, and more, and it can be remotely started via SMS command. Like many, this free app contains ads but there's also a Pro version if you want to avoid them.
APPLOCK (Free)
DoMobile Lab's app has an excellent reputation and is the Play Store's most downloaded app lock. It uses a pattern, password, or fingerprint to protect your privacy and ensure the security of your device, and can also hide specific images and videos. Like the previous app on our list, as well as locking apps, it can also lock Android toggles including Bluetooth, WiFi, and mobile data as well as block incoming calls and more.
This is a very feature-rich option with default profiles and customized profiles, time lock, location lock, random keyboard feature, a widget, power-saving mode and much more. Users can opt for a customized background and have the option to hide the Applock icon. In-app purchases are available for a no-ads version.
FINGERSECURITY (Free)
This was one of the first apps to give users the opportunity to lock apps with the fingerprint sensor of their mobile. You can also set timeouts to enable a short switch between apps, unlock multiple apps at the same time, and automatically protect new apps. If you're worried about your fingerprint not being recognized at any time, FingerSecurity will also let you use an alternative PIN code or password.
The app also provides a widget for fast enabling and disabling, and at specific locations will automatically unlock your apps. In addition, uses fake crash dialog, takes pictures of snoopers, and more. In-app purchases are offered for advanced features such as preventing uninstalls, more themes or changing the lock page background.
APPLOCK – GUARD WITH LOCKIT (Free)
If you don't want your sensitive information falling into the wrong hands, this app is another good choice. It's packed full of features including pin, pattern, and fingerprint app locking, and a photo and video safe vault. It will also snap an intruder selfie, hides previews for message text notifications, and provides a fake cover that will mask the unlock screen of your apps.
As well as locking applications, further features include an option to lock the Google Play Store (useful if you have kids), lock the system settings, and block incoming calls to prevent someone else answering your phone. It also has free themes, a notification bar, and you can prevent the app from being uninstalled.
APPLOCK – BY IVYMOBILE (Free)
People can be kept away from intruding your apps with this app locker that uses a password or invisible pattern lock and random keyboard. Most of the features are the same as other applications of this kind. This includes locking social apps such as reddit apps Facebook, Twitter, Snapchat, WeChat, Instagram and more, and also locking system apps including Gallery, Videos, Email, SMS, and Contacts.
Users of this app can also lock Android pay apps such as Android Pay, Paypal, and Samsung Pay, as well as third-party apps, for example, games and YouTube. You can hide this app by replacing the icon, lock the frequency, enable a power-saving mode, and more. As well as a choice of themes from the Theme Store, users can also customize themes or wallpapers.
VAULT- HIDE SMS, PICS & VIDEOS (Free)
Vault offers many of the usual app lock features with some extras on top and has more than 100 million worldwide users. With the use of a password, it hides your call logs, videos, photos, SMS, social use and contacts, and features app lock, private bookmark, cloud backup so that you can easily transfer your data to a new device, private browsing, and password recovery via a security email.
There are also some more advanced features that can be accessed via in-app purchase. These include being able to create a fake vault or multiple vaults with different passwords, a stealth mode, and break-in alerts, where as well as taking a photo of intruders the app will also give you a timestamp and the PIN codes entered.
SMART APPLOCK (Free)
Our final selection is Smart AppLock, which allows you to protect your apps via password, pattern, or PIN and has a very appealing UI. It also enables fingerprint unlocking, although this is only for suitably equipped Samsung devices. Of course, it provides the usual app locking features as well as the ability to lock system toggles, incoming calls, settings, and markets. You can custom lock the screen style and screen background, lock recent history, and a whole lot more.
Final Thoughts
As well as securing your information from outsiders, some might want to prevent details being seen by partners or parents who might be checking up on them, or from people who they lend their phone to. All of our 10 best app lock for Android options have plenty of features to take advantage of, and although some offer in-app purchases, most are entirely free to use.
It's important to acknowledge that these private locker apps offer an extra layer of security, they might not be entirely foolproof if your intruder is extremely resourceful. Some people might choose to use a lock screen app as an additional layer of protection. If you have any suggestions of other good applock apps for Android, do let us know in the comments section.
APKDom
Download WhatsLock — Applock for Privacy and Secur APK
Downloads: 129 (Play Store Installs: 4+)
WhatsLock — Applock for Privacy and Secur com.whatslock App Details
Price: Free
Latest Version Date: 16 September 2018
Requires Android: 4.2
Developer: Mobisec
Latest Version Size: 5Mb
Category: Tools
Version History More Versions
Latest Version: 4.4.9
(Request App Update) [Request Sent]
WhatsLock — Applock for Privacy and Secur Screenshots
WhatsLock — Applock for Privacy and Secur Description
Visit website for more details: http://whatslock.com.br
The WhatsLock brings more privacy and data security for your apps.
Using it is possible prevent unauthorized access to your chats. Ensuring your privacy.
The password can be entered by two ways :
— Numeric Password.
— Pattern Lock.
★ App Lock : You can protect other apps from unauthorized access. We suggest protect your apps with contacts and photos.
★ Cover Window : If anyone tries to open your apps a cover window will be displayed that hides names and photos initial page. To unlock and get access to the app the user has to provide their password. You can add cover profiles to make window more real to intruders.
★ Hide WhatsLock Icon
★ Hide Fotos and Videos from Gallery
★ FullScreen to Lock Methods
★ Drunk Mode : Avoid sending improper messages when you drank beyond measure. At midnight to unlock the app you will need to type the password and answer a mathematical question.
— Remove Ads
— Unlock tools for strong security
— WhatsCleaner Plugin, remove duplicated files from chats.
— Support Premium
Help us to translate the App to other languages and get PRO App Version for FREE. Send e-mail to [email protected] with subject WhatsLock Translate [Language]
1) How to change password?
Click in «Forgot Password» WhatsLock will be send a recovery code to your e-mail. Check your Spam inbox.
2) I hide WhatsLock icon, how to open AppLock now?
Enter #YourPassword in your dial pad, and tap call button to open WhatsLock.
3) I purchase account premium and cannot access premium features ?
You need sync your account. Got to «Account Premium» , open it to sync your account.
Try access premium features.
4) Not Working on Android Lollipop 5.1.1 or 6.0
You need enabled access to app for work on this Android version. For active it go to Settings -> Security -> Apps with usage access -> enabled for WhatsLock.
If you have any questions or suggestions send an email to: [email protected]
More details at http://whatslock.com.br
Join to AppTesters community and help us to test new versions of the app.
You will get Premium version for free. Send email to [email protected] for more information.